Lance Herbert Larson was born on March 1, 1952 in Perth Amboy, New Jersey to father Herbert (Swedish descent) a liquor salesman and mother Eugenia Larson (Swiss Descent) an executive assistant. He is the middle of three children with an older brother Jan and a younger sister Lori.

Raised a Protestant, Larson attended his first few years of school at Sacred Heart Catholic elementary in Perth Amboy until the family moved south to Monmouth County, New Jersey where they settled in New Shrewsbury.

While attending Shrewsbury Borough School Larson became interested in music, influenced by American bands like Sam the Sham and the Pharaohs, Question Mark and the Mysterians as well as the British bands like the Dave Clarke Five, the Animals and the Beatles. Musically inclined, he taught himself to play the saxophone, drums and later the organ.

It was during these years that Larson started his first band called the Spartans. The Spartans was a popular band covering Motown hits and playing the local teen and beach club circuit along similar bands like Bruce Springsteen's first band, the Castiles. After winning several local talent contests, the Spartans were in demand to open for popular regional acts and notable stars of the day including J. Fred Muggs from the "Today Show" and the "Ed Sullivan Show".

Moving on to Red Bank Regional High School in the mid-1960's, Larson wanted to create his own music and ventured into song writing. Foregoing formal lessons, he taught himself to play the guitar, learning chords by ear and only playing the ones that "sounded good to him". This unorthodox approach would become the foundation of his unique style of play.

Lance Larson transferred to Monmouth Regional High School when his family moved to Tinton Falls, New Jersey. He continued to fine-tune his acoustic guitar and vocal skills and struck out on his own, performing solo at local coffee houses, small clubs and any other venue that would put him in front of a live audience.

After graduating high school, Larson headed south to enroll in Miami Dade Junior College to study music under renowned Jazz guitarist Vincent Bredice. The program, designed for classically trained musicians, proved unsuitable for Larson's self-taught style. He departed college to acquire real world experiences and ideas for songs while traveling across the country. He eventually landed in Laguna Beach, California where he performed locally and started writing songs. But he soon yearned to return to his roots in South Jersey.
1973-74
In 1973 Larson returned to his home state and landed a day job as chauffeur to a New Jersey real estate magnate and owner of the Boston Celtics of the NBA. He also took a night job as the sound engineer for a local band Cahoots. Davey Jones' wife heard his live mixes and recommended to her husband that they use him for the Monkees. Mickey Dolenz and Davey Jones hired Larson after his first night. He had played just a few of these gigs when he was asked to sign on and play with a band called Cold Blast Steel. Cold Blast Steel, along with Southside Johnny and the Asbury Jukes, became the two top performing bands in New Jersey. Seven nights a week, Cold Blast Steel played to full houses all over Jersey. After two years, Larson left to start his own group and play original material.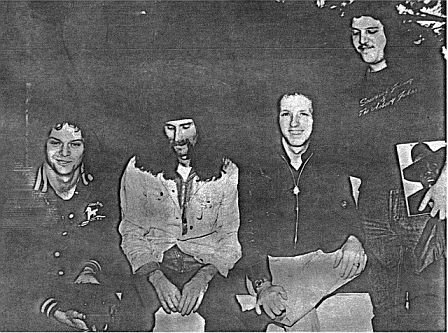 Lord Gunner
Named for the movie "Lords of Flatbush" and Larson's Uncle Rip Gunner, Lord Gunner was formed in 1974. Larson teamed with local Jersey Shore guitar legend Rick DiSarno, Stephen Rava on bass and Ernest "Boom" Carter, the drummer on Bruce Springsteen's Born to Run. Lord Gunner would later add John Mulrenan on the organ and Boom Carter would be replaced first by another Springsteen drummer, Vinnie Lopez and later by future Bon Jovi drummer Tico Torres.
The band was committed to playing original music and delivering high-impact rock at their live shows, and quickly rose to local fame, becoming the house band at the legendary Stone Pony in Asbury Park, New Jersey.
Larson set out to hone the Lord Gunner's sound by capturing the high-energy, emotional and often turbulent play of its musicians. He viewed this band as a boot camp and each musician was an enlisted soldier to be pushed to the absolute limit. Larson felt that if they could make it through rehearsals, raucous live shows and legendary after-show antics, they would be prepared to go to battle with the best bands in rock. Larson led the way, performing passionately and leaving everything on stage. His presence was spellbinding. Whether he was hanging from the ceiling, bleeding from a smashed bottle or whipping his fans into frenzy, Larson always held his audience in the palm of his hand.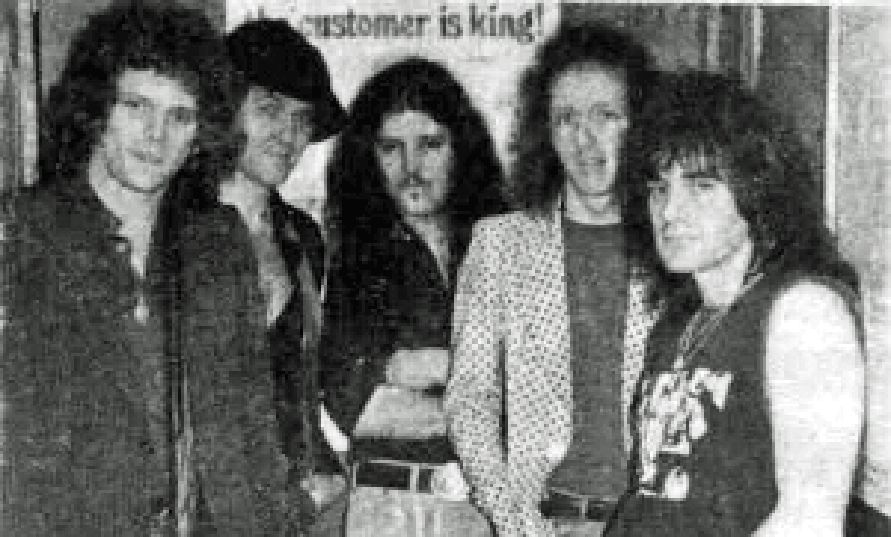 As Lord Gunner gained in popularity, they were invited to open for national acts including David Johanson, Sly and the Family Stone and John Cafferty & the Beaver Brown Band. As the band hit its stride, they found themselves headlining larger venues to thousands of enthusiastic fans from Maine down to Florida. In those heady days, opening bands for Lord Gunner included notable acts like the Smithereens and Jon Bon Jovi and The Wild Ones. At this time, the Lord Gunner Group was one of the most popular unsigned bands on the East Coast.
Lord Gunner had several opportunities to be signed, but an unfortunate incident eventually led to the band's demise. While preparing for a showcase at Traxx in New York City, where the audience would include representatives from every major record label in the industry, Larson and Lopez discovered that their manager was "double-dealing" the warm-up band. As you might guess, this did not sit well with Larson and Lopez. Having been told the showcase would be for Lord Gunner exclusively, they had spent band funds to promote the event, paid the bond on the club, provided food and drink and asked all of their fans to come out to support them. True to his nickname, Vinnie "Mad Dog" Lopez went ballistic, smashing bottles, raising a general ruckus, and was finally persuaded to leave only upon the appearance of several of New York's Finest. Witnesses still remember him racing down Broadway with only one boot. For his part, Larson played a few songs, then calmly approached the microphone to ask all of the A&R reps to get up out of the first few rows and let the band's friends and fans sit down in their places. Every rep stormed out of the club and Lance Larson and Lord Gunner lost their shot at a deal, ending up on the blacklist for the next five years. After a revolving door of musicians, Larson decided the band had run its course and moved on to pursue a solo career.
1983-86
Sly Stone a friend and former roommate helped Lance get auditions to replace Steve Marriott from Humble Pie which at the time included Clem Clemson and for a brief period Mitch Mitchell from Jimi Hendrix. He also auditioned for Ian McDonald, a former member of King Crimson and Foreigner, for his new project. However Marriott regained his voice and stayed on with the band and Larson wasn't picked for McDonald's new band so he looked elsewhere.

Larson would play on with a string of bands ranging from traditional rock, country to R&B, with members including Boom Carter, Tommy Marrangello from Ian Hunter, Tommy Zvonchek from Blue Oyster Cult, Richie Rano from Starz and Jack Scarangella from the Rascals. Larson also appeared on the MTV "Feed the Hungry" special.
It was also during this period that Larson would make, as Kevin Coyne of the New York Times would later write, his most visible contribution to rock 'n' roll iconography: the red baseball cap in the cover shot of Bruce Springsteen's blue-jeans-clad backside from "Born in the U.S.A". It was meant as a heart warming gesture from Bruce Springsteen to his close friend following the untimely death of Larson's father.
1986-92
Larson hired a new manager, Glen Palmer, who was road manager for Neil Young at that time and later for the Blues Brothers. Larson went out to California again meeting with record labels and staying at Neil Young's estate for a brief period, but would eventually return home to the Jersey shore.
During this time Larson would begin to write and record songs that would ultimately become the album To Make a Long Story Short, The Lost Asbury Tapes. Produced by Garry Tallent of the E Street Band and financed locally, the album never got the promotion it needed to attract a major label, but it did yield a popular revision of the Steve Earle song "Devil's Right Hand". That version would eventually be re-recorded by Earle himself and covered by Johnny Cash.
Larson decided to take a break from playing full time in bands and concentrate on writing songs and music scores for television and movies. One project involved collaborating with prolific song writer Jimmy Webb. Webb had sent Larson a set of songs to develop. The song Larson chose was "Still within the Sound of my Voice". Webb loved Larson's interpretation and forwarded it to Glen Campbell to record and in 1988 it rose to number 5 on the country singles chart.
Larson also developed a relationship with famed movie producer Jon Kilik. One of Larson's songs was used in the movie "Father and Son", and another nearly made the cut for Spike Lee's Malcolm X. Larson would also work with Westwood Publishing and David Morse of Paramount. His songs were selected for many independent films in America and Europe and for popular TV shows like "Hack".
1993-2000
Near Fatal Attack
Larson had always worked in construction off and on for extra money. One of these jobs almost cost him his life. As he was leaving a construction site one night, he was attacked by four men who probably thought he was carrying the construction site funds. When they found no money, they beat and stomped him savagely, using a hammer, their boots and whatever else they could find, finally leaving him for dead. Paramedics revived him on the street, and rushed him to Jersey Shore Medical Center. He arrived in a coma, with severe damage to his head, eye, mouth, jaw, eardrum and collar bone. The doctors said that it was miraculous that he even survived.
His recovery was slow and painful, requiring several surgeries to repair his eye socket and the insertion of metal rods and plates in his jaw and head. He would lose mobility of his shoulder and much of the hearing in one ear, and had to regain all of his motor functions, learning how to walk and speak while trying to regain his memory. He would remain in the hospital for many months and spend many years in rehabilitation therapy.
Fortunately, throughout this period Larson received an incredible amount of support from his family, friends and fellow musicians including Bruce Springsteen and Jon Bon Jovi, who headlined a fund raiser to pay for his medical bills. Through sheer perseverance and determination, Larson eventually recovered.
2000-02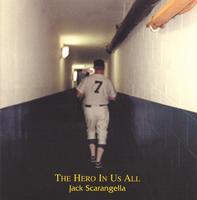 In 2000, Larson's friend and former band mate Jack Scarangella, a drummer and protege of Buddy Rich who performed with numerous artists including the Rascals, Bo Diddley, Blood, Sweat and Tears and Richie Havens, asked for permission to use Larson's "Angel with Broken Wings" for Scarangella's motivational concept album, "The Hero in Us All". The album was to feature inspiring spoken words from New York Yankees and Jets legends as well as an all-star cast of musical performers from across the globe. Larson quickly agreed and asked if he could attend the recording. When he arrived he learned that the original artist scheduled to sing "Angel" was unable to perform, so Scarangella asked Larson to do the honors. Taken by surprise and feeling a little apprehensive as he had barely sung a note since the attack, Larson did finally perform the song - so well in fact, that his version is the one on the album.
Another artist on The Hero in Us All project was steel pedal guitar legend Buddy Cage, who performs with New Riders of the Purple Sage and has worked with Bob Dylan, The Grateful Dead, The Band, and Janis Joplin, and was one of the performers on The Festival Express Tour. Larson and Cage became fast friends, playing as a duo for two years; most recently Cage played on two Larson songs, "Saints and Sinners" and "The Way She Makes Me Feel."
2003-08
Precluded from construction work, Larson and longtime girlfriend Debbie Delisa operated a food stand for a while, until the two acquired Asbury Park's Wonder Bar on Ocean Avenue, a venue famous for showcasing local bands playing live music and is also where Bruce Springsteen first saw Clarence Clemmons perform.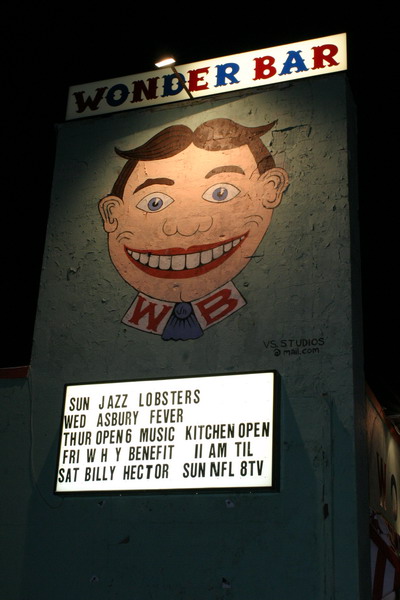 With scant funding and no liquor license, Larson and Delisa worked hard to keep this fledgling club going, promoting non-alcoholic events, Spanish-themed dances and charity functions. Larson improved much of the infrastructure himself and booked the bands while Delisa managed the bar and restaurant. Eventually, the pair took on two business partners who financed improvements to the stage, lighting and sound system and secured a liquor license. Lance and Debbie's Wonder Bar would eventually become one of the top clubs for original music in Asbury Park and the surrounding area.
After spending a couple of years watching all those great bands performing at his club, and occasionally jumping up on stage to play a song or two with that night's band, it was inevitable that Larson would eventually feel the urge to get back in front of an audience. He put a band together with some members of Lord Gunner and other musicians from the area and called it Lance Larson and the Wonder Band. The band played only sporadically but always to big crowds and at impressive venues like the Hard Rock Casino on the same bill with Bruce Springsteen and The Fix.
In 2006 Larson linked up with members of one of his favorite local bands, Days Awake. Ranked New Jersey's best live band in 2005-2006, Days Awake members include Sarah Tomek, drums and background vocals; Jeremy Korpas, guitar and background vocals; Eric Safka, organ; Jay Cagna, bass; and Dominic Lacquaniti, rhythm guitar and background vocals. Although disbanded these musicians continue to perform with Larson at live events.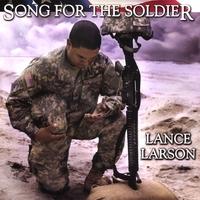 In 2007, Larson completed a new project he had been planning for some time: Songs for the Soldier. The featured track, "Song for the Soldier" is a tribute to his father who fought in WWII, and to all service members and veterans. But SFTS is also a rich compilation of songs that cross over his roots in classic, country, and R&B style rock; songs that Larson hopes will appeal to a broad spectrum of musical tastes. Larson also wanted to pay tribute to some of the major musical influences in his life such as Warren Zevon, Smokey Robinson and Steve Earle.
Larson was honored to have many of his close friends perform on SFTS; friends who are well- known and respected in the music industry including Jon Bon Jovi, Richie Sambora, David Bryan, Tico Torres, Buddy Cage, Jack Scarangella, Jimmy Leahy, Ryan Cavanaugh, Garry Tallent, Bobby Bandiera. Also featured on SFTS are Larson's touring band members Sarah Tomek, Jeremy Korpas, Eric Safka, Jay Cagna and Dominic Lacquaniti as well as the Mt. Pisgah Baptist Choir of Asbury Park, New Jersey and a host of extraordinary musicians and singers.
On Memorial Day 2007, Larson released his single "Song for the Soldier", offering it free by electronic download to any active US Military service member. On Veterans Day 2007, he would extend this free offer to include all veterans of the US Military. The song has since been downloaded by countless US service members and veterans all over the world.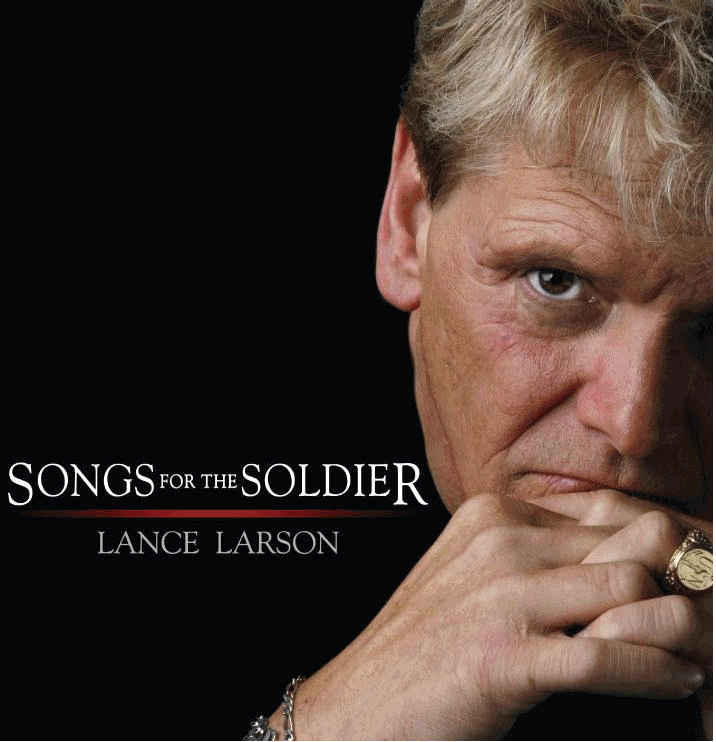 The album Songs for the Soldier was released in December 2007, with a tour scheduled in 2008.
Lance Larson spends most of his free time enjoying the Jersey Shore with Debbie and their varied collection of pets all rescues. When he is not touring, he continues to writes new music for himself and other artists.